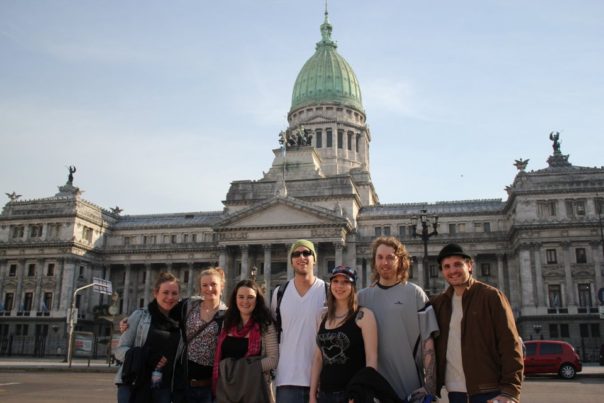 For those who want to experience the best of Buenos Aires in one day, we offer our Buenos Aires full city walking tour. Starting in one of the busiest city centres in the world, we visit the historical downtown and visit important landmarks such as Casa Rosada, Obelisco, Cabildo, Plaza de Mayo and many other exciting places. Then, we make our way to the aristocratic Recoleta, visiting it's beautiful Palaces, the famous grave of 'Evita' and hear random insights around the world famous cemetery.
Highlights:
Recoleta Cemetry
Plaza San Martin
Edificio Kavanagh (Kavanagh Building)
Israeli Embassy Plaza
9 de Julio - World's widest street
Torre de los Ingleses (English Tower)
French Embassy
Pilar Church
Casa Rosada (Pink House)
Cabildo
Palacio Barolo
Obelisco
Tour Includes:
Bilingual Tour Guide
Hotel Pick-up and Drop-off
Tour Does Not Include:
Food and Drink
Entry to the buildings
Tour Itinerary:
First Half of Tour: We visit the many sights within our highlights list and tell you a few secret stories and show you some hidden sights.
Lunch: We stop off for a bite to eat (Food & Drink not included)
Second Half of Tour: We continue the second half of the tour showing you the remaining sights of the highlights of Buenos Aires.
Tour: Every Day - Flexible Start Time
Tour Style: Private Walking Tour
Duration: 6 Hours
Plan Your Tour
Our helpful and knowledgeable team will be happy to help you. Send us an email to make an enquiry, plan your trip or book your tour.
E-mail: info@unicotrip.com