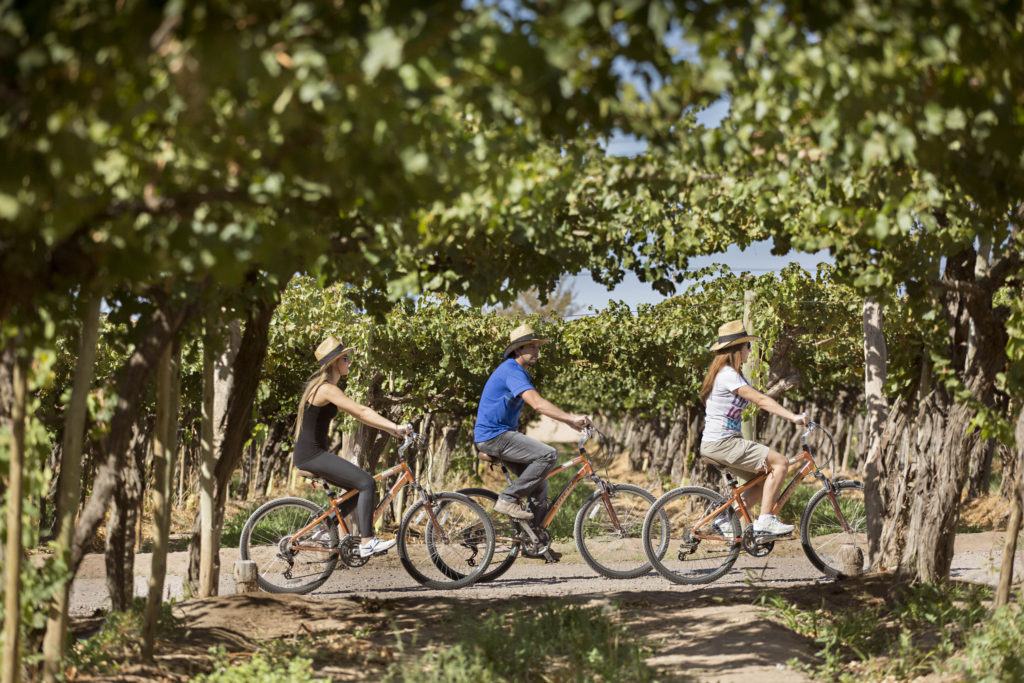 Try the Mendoza 3 days & 2 nights tour. Mendoza, Argentina is located in the west of Argentina and is the ultimate destination of Argentine wine and natural beauty. The province of Mendoza is full of lovely places! It is world famous for its wine, also nationally, because it produces more than 60% of the country's production. On our tour you will discover the famous Malbec visiting several wineries in Lujan de Cuyo and Maipu. On this trip, discover some of the world's best food and wine! You will be swept away with this spectacular destination that is Mendoza!
Highlights:
Bodegas de Maipu or Lujan de Cuyo (Maipu or Lujan de Cuyo Vineyards)
Los Andes
City of Mendoza
Tour Includes:
Hotel Pick-up & Drop-off
Accommodation
Transfers
Excursions
Bilingual Guide
Wine tasting tour on bike or in a private car visiting the vineyards of Mendoza.
Free day in Mendoza
Tour Does Not Include:
International Flights
Domestic Flights (Optional - please see Add-Ons)
Optional Activities / Excursions
Tour Itinerary:
Day 1 - Buenos Aires - Mendoza: Arrival in Mendoza. Transfer to hotel. Free afternoon where you can take a stoll around the city or try some adventure activities (optional) like rafting, parapentas, calbagatas, etc.
Day 2 - Mendoza: On the second day of your tour you will have a choice between two options: Maipu Vineyard bike tour or Private Tour to the Lujan de Cuyo Vineyards. The tour to the wineries by bike, is to taste the different Malbec wines and cycle between the different stages of the journey. The tour includes visits to industrial, family and boutiques vineyards. Discover the best wineries of Maipu/Lujan de Cuyo and understand the manufacturing process Malbec wine. The place where they make the most prestigious wines of Argentina: Malbec, Cabernet Sauvignon, Merlot, PinotNoir, Chardonnay and SauvignonBlanc. Throughout this tour, a wine expert guide will give you all the secrets of these wines and learn how to taste wine like a true expert. Lunch in a gourmet restaurant in one of the wineries, sample terroir specialties accompanied by fine wines, a good way to put into practice what they learned in previous visits. After a hearty lunch and long, back to Mendoza.
Day 3 - Mendoza - Buenos Aires: Transfer from the hotel to the airport. Return to Buenos Aires.
Tour: Every Day
Tour Style: Private or Group
Duration: 3 Days / 2 Nights
Plan Your Trip
Our helpful and knowledgeable team will be happy to help you. Send us an email/message to make an enquiry, plan your trip or book your tour.
E-mail: info@unicotrip.com