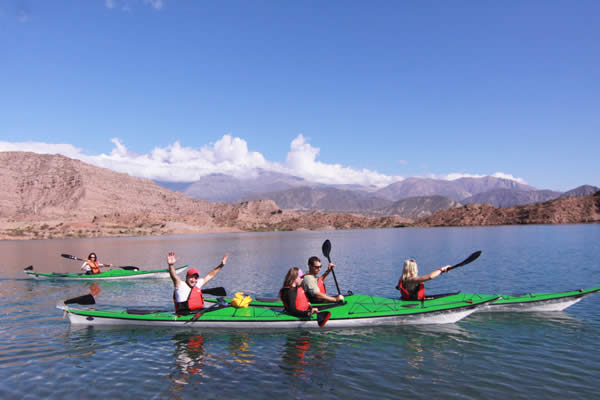 Join us as we take a Mendoza kayak trip on the calm surface of the lake, travelling at a relaxed pace and remaining no more than 50/80 meters from the coast so that we can enjoy constant interaction with the beautiful nature that surrounds us. While rowing and breaking on some islands we can see and learn about Mendoza's flora, fauna, geology, customs, cuisine and history.
Potrerillos Reservoir: 70 km from the capital city, next to 'Ruta Nacional No.7' the road which connects Mendoza with neighbouring Chile, this artificial lake posses all the beauty of a Mendoza landscape. The reservoir is 1300 hectares of water, 12 kilometres long, 3 kilometres (max) wide, 1381 meters high and 140 meters maximum depth.
The majesty of this framework, together with the beautiful natural scenery, clean air, climate and the mountain environment make this the perfect location for this activity.
The Potrerillos Reservoir is the chosen site for this fantastic Mendoza kayak tour.
Highlights:
Islands with amazing flora, fauna, geology, customs, cuisine and history
Kayak on Potrerillos Reservoir
Tour Includes:
Private or group vehicle
Snack during the excursion
Lunch: Picnic - Regional Picada, wine, water, desert
Equipment (including kayak and safety gear)
Hotel pick-up and drop-off
First aid-kit
Tour Does Not Include:
Lunch is not included for half day tour (optional add-on)
Tips
Tour Itinerary:
After resting for 20 minutes, we continue our journey towards the Mendoza River with renewed energy. At around midday, depending on the needs of our guests, the guide will select an unspoilt and rugged area to disembark and prepare lunch: a good Picada Regional! served with Mendoza wine and cold drinks. After lunch we enjoy a moment of relaxation. Our lunch break will be 1 hour. We continue our journey West to East heading towards our start point with renewed energy, after an unforgettable 4 hours kayaking we leave our boats behind and enjoy a snack and cool drinks on the banks of the reservoir. End of excursion, return to Mendoza city.
Tour Details:
This is an attractive and safe journey on Potrerillos Lake, our main objective is to ensure our guests enjoy personal relaxation, recreation and interact with nature at its finest.
Personal Equipment:
Comfortable clothing for kayaking/swimsuit
Windproof jacket
Shoes or sandals
Sunscreen and hat
A change of clothes
Towel
Tour: Every Day
Tour Style: Private or Group
Pick-up Time: 8.00am
Duration: 10 hours
Plan Your Tour
Our helpful and knowledgeable team will be happy to help you. Send us an email/message to make an enquiry, plan your trip or book your tour.
E-mail: info@unicotrip.com