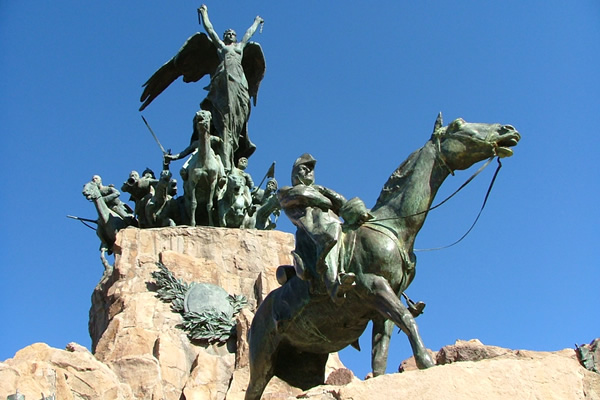 Come with us as we visit the places that give Mendoza City its identity. We visit the Foundation Area, Franciscan Ruins, the Foundational Area Museum, Mendoza's Plazas, the iconic Emilio Civit avenue and General San Martin Park with its grand fountain, lake and thousands of species of trees. The experience ends at 'El Cerro de la Gloria' (Glory Hill). On this hill stand the monument for Ejercito de Los Andes (the Andes Army), here we can feel the bravery of General San Martin and his army of liberators.
Highlights:
Mendoza City
Glory Hill
Franciscan Ruins
Mendoza's Plazas
Foundational Area Museum
Emilio Civit avenue
General San Martin Park
Tour Includes:
Private Vehicle
Snack
Hotel pick-up and drop-off
Bilingual Tour Guide
Tour Does Not Include:
Anything that is not stated on the itinerary
Tour Itinerary:
Starting our tour late-morning we head to our first stop, Mendoza's foundation area, we visit Pedro del Castillo Plaza which is named after the man who founded the city in 1561, the Franciscan ruins, a temple built in 1731 and the Foundation area museum which opened in 1993 and displays a selection of colonial artefacts; the town hall ruins, the old slaughterhouse and an ancient underground chamber where you how water was supplied to the old city. We pass through General San Martin Park with its majestic entrance gate and continue west to the summit of The Glory Hill at 960 meters where the monument to the Army of the Andes stands. From this hill, you can see the whole of Mendoza City and the grand Greek Amphitheatre where we celebrate our Harvest Festival.
End of the tour, return to the hotel
Tour Details:
This service consists of a tour of Mendoza city, during which you will learn about the provinces history, customs, culture, architecture, etc.
Tour: Every Day
Tour Style: Private
Pick-up Time: Flexible
Duration: 3 hours
Plan Your Tour
Our helpful and knowledgeable team will be happy to help you. Send us an email/message to make an enquiry, plan your trip or book your tour.
E-mail: info@unicotrip.com