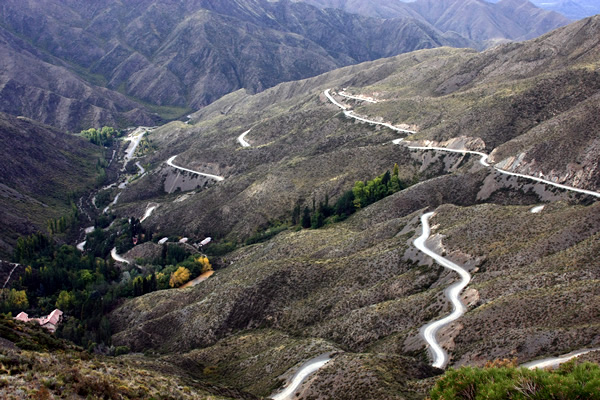 On this tour we will explore part of the route taken by General San Martin and his Liberation army to the beautiful Villavicencio nature reserve which was opened at the beginning of the 20th century. We will enjoy the beautiful gardens, parks and appreciate the unique colours of this area on an unforgettable day trip.
Highlights:
Route taken by General San Martin and his Liberation army
Villavicencio nature reserve
Andes Mountains
Tour Includes:
Private or group vehicle
Snack
Bilingual Tour Guide
Hotel pick-up and drop-off
Tour Does Not Include:
Anything that is not stated on the itinerary
Tour Itinerary:
We start our journey to one of the most beautiful destinations in the Mendoza province. At a distance of nearly 50 miles away from Mendoza, you will discover the history and geography of the province.
Travelling north on the Provincial highway 52, we will reach the winding road that will lead us to the old Hotel Villavicencio. The ascent is know as 'the year road' because locals say that the road makes 365 curves as it winds its way to the wonderful place where natural spring water can be found.
We will have the chance to see The Hotel de Villavicencio which was built in 1940 and closed in 1978. This hotel based in a narrow gorge functioned as a spa; people came from all over the country to enjoy its thermal waters. After the hotel was closed the facade was renovated to retain its original beauty. In 2001 the Department of Natural Resources declared the area surrounding the hotel as a nature reserve. The reserve covers a total of seventy thousand acres which is protected for its biological diversity, historical, cultural and archaeological value. At this moment, with the beautiful view of this unforgettable landscape, we prepare for the return to the city. This reserve is known as Villavicencio.
End of tour, return to Mendoza City.
Tour: Every Day
Tour Style: Private or Group
Pick-up Time: Morning
Duration: Approx 5 hours
Plan Your Tour
Our helpful and knowledgeable team will be happy to help you. Send us an email/message to make an enquiry, plan your trip or book your tour.
E-mail: info@unicotrip.com