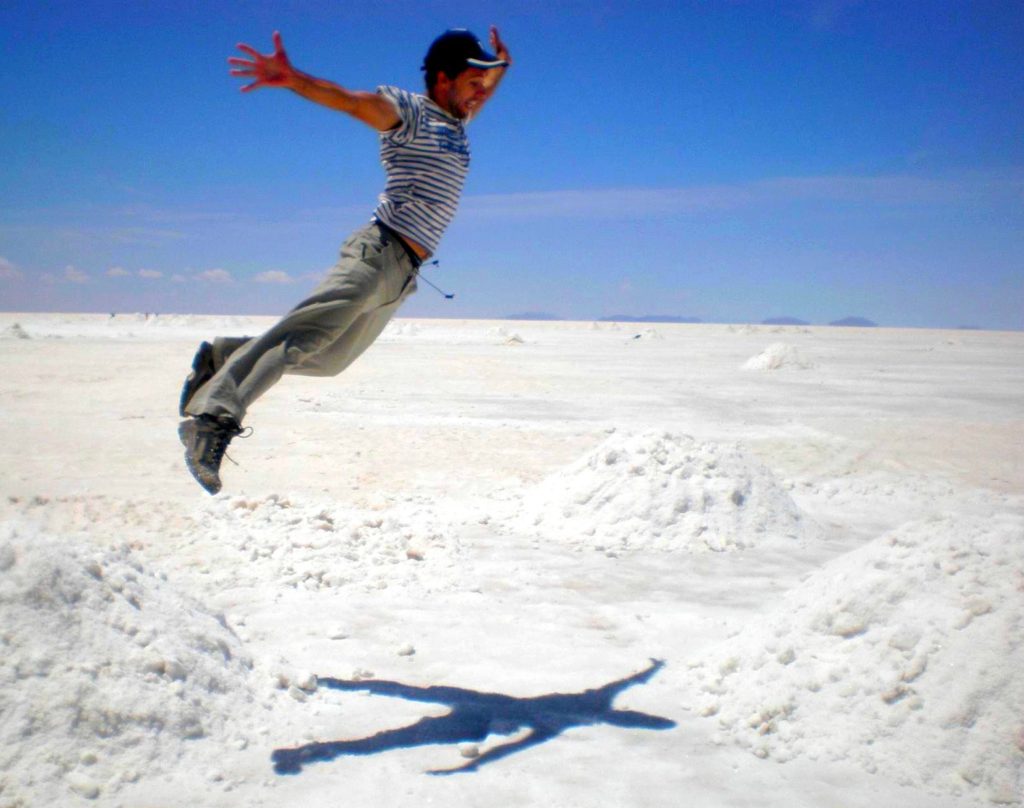 The Salinas Grandes is the third largest salt desert in the world. It is a unique visual experience and from all excursions, it is probably the most varied in terms of landscape.
Santa Rosa de Tastil used to be a town of merchants in pre-Hispanic times. Located midway between the Puna and the Lerma Valley, it was inhabited by 2,500 people. Its urban plant consists of seven parks with no streets, as villagers used to walk on adjoining walls.
Salinas Grandes lies north of San Antonio de los Cobres and Southeast of Suques. No urbanization exists and people who work on the salt mines have to spend the night in precarious shelters, abandoned buses or else travel to the closest villages of Cobres or Tres Morros on a daily basis. At Salinas you will witness a curious spectacle: local people and craftsmen placing branches in salt water pools, until minerals gradually adhere to them, water evaporates and salt crystallizes. The result is a 'little tree' they will offer you as a souvenir in exchange for a voluntary contribution.
Highlights:
Salta
San Antonio de los Cobres
Salt Desert
Purmamarca
Tour Includes:
Hotel pick-up and drop-off
Bilingual tour guide
Private air conditioned car
Tour Does Not Include:
Tour Itinerary:
To access this site we will go through Campo Quijano along National Route 51, following a zigzag path parallel to the C-14 branch of the Train to the Clouds but sometimes coinciding at some points. (This train is temporarily out of service).
Driving across the Quebrada del Toro (Bull's Gorge) we will reach Santa Rosa de Tastil, a vast archeological site 3,000 meters high, right in the heart of this gorge. The site is considered one of the main prehistoric centers in South America, where several impressive archeological ruins can be found.
Along this route, through the Variante de Munano at 4,000 metres, we will reach a great plain which is a prelude to San Antonio de los Cobres: a town asleep in the solitude of the heights, the desert and the Puna. This town was named so given its location within the jurisdiction of Sierra del Cobre, a mountain rich in copper. 20 km away is La Polvorilla Viaduct, an engineering masterpiece in mysterious harmony with the surrounding nature. Here, you will have the chance to climb up using handrails in order to experience the curious sensation of being at such great heights and take some pictures.
When leaving San Antonio de los Cobres, instead of going back along the same route we will take National Route 40 to the north and half an hour later along an old road we will finally arrive at Salinas Grandes, a huge salt flat in Jujuy province. This site consists of a white and rough plain made of very clean salt which is equally divided between Salta and Jujuy provinces.
Afterwards, we will ascend up to 4,170 metres and then descend along the Cuesta de Lipan until we finally arrive in Purmamarca, a small town at the foot of the Cerro de los Siete Colores (Hill of Seven Colors). After paying a visit to the handicraft market, we will continue our journey back to Salta.
Tour: Every Day
Tour Style: Private or Group
Departure Time: Flexible
Duration: 12 Hours approx.
Plan Your Tour
Our helpful and knowledgeable team will be happy to help you. Send us an email/message to make an enquiry, plan your trip or book your tour.
E-mail: info@unicotrip.com